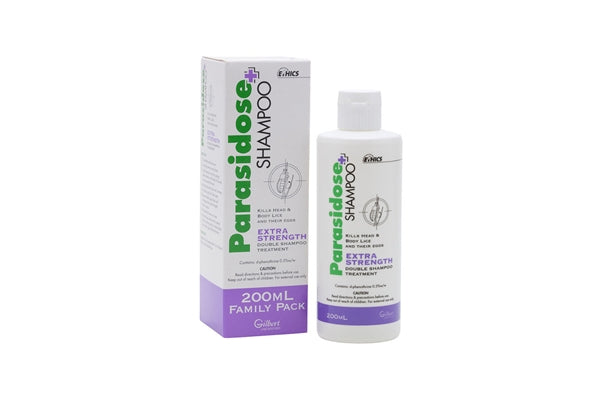 Parasidose Extra Strength Lice Shampoo 200ml
---
Parasidose Extra Strength Shampoo is for the treatment of headlice. It kills head and body lice and their eggs.
Directions
1. Shake bottle well before use.
2. Thoroughly wet hair over a basin.
3. Apply shampoo to wet hair, paying special attention to the back of the neck and areas behind the ears.
4. Massage into scalp, then wait 3 minutes.
5. Rinse thoroughly with fresh water.
6. Repeat shampoo application and massage whole scalp thoroughly.
7. Wait 3 minutes
8. Rinse well until water runs clear.
9. Comb through wet hair with a special lice/nit removing comb, to remove dead lice or their eggs (nits) from the hair.

IMPORTANT: Repeat this full treatment AFTER 7 - 10 DAYS to kill any newly hatched lice.
Ingredients
d-Phenothrine 0.5%w/w
Warnings
Parasidose Shampoo Extra Strength Shampoo Treatment contains Acetic Acid, it is necessary to rinse the hair completely after each application. Avoid contact with eyes or nose. In case of contact rinse thoroughly with fresh water. If skin irritation or infection develops, discontinue use and consult your doctor.
For external use only. Keep out of reach of children.
Do not use on infants under 30 months old.
Not to be used by breast-feeding mothers. 

If you are an epileptic patient, this shampoo contains camphor; excessive doses or prolonged use may induce neurological disturbances. Seek medical advice before using this lice treatment.
---
Share this Product
---
More from this collection