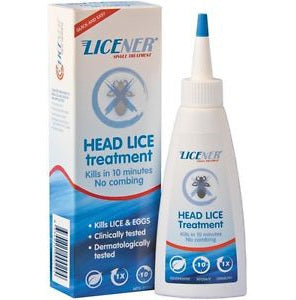 Licener Head Lice Treatment 200ml
---
Licener Head Lice Treatment is able to kill head lice and lice eggs (nits) in just one single application.

Licener suffocates both by forming a coating that blocks the transport of oxygen. The shampoo contains the active ingredient, Neem-extract. When applied according to the directions the extract covers, immobilises and suffocates lice causing them to die.

It also penetrates tiny openings at the top of the eggs called aeropyles (breathing holes) blocking the oxygen flow which causes the carbon dioxide to build up and the nits suffocate and die also.

The Neem extract will also break down the protective shell of the (eggs) nits. Therefore Licener kills both the lice and nits in a single treatment. Licener has been tested in several clinical studies and it has been proven that Licener will kill head lice and lice eggs and is gentle on skin and hair.
Neem-extract
Aqua, Polyglyceryl-3 Caprate
Cocamidopropyl Betaine
Glyceryl Laurate
Glycerin
Lauryl Glucoside
Dicaprylyl Ether
Lauryl Alcohol
Benzyl Alcohol
Benzoic Acid
Sorbic Acid
Dimethyl Glutarate
Dimethyl Adipate
Directions
Licener is simple to use and works rapidly in only 10 minutes. The shampoo rinses out easily with no additional washing or combing required.

STEP 1: Apply Licener shampoo to dry hair. Use sufficient shampoo to cover all of the hair. Depending on the length of hair one entire bottle of Licener may be required per person. Massage Licener shampoo well into the hair and cover all hair from the scalp to the tips and then leave it in the hair for 10 minutes. If a number of family members have head lice you should try to treat them all on the same day with Licener in order to prevent new infestations.

STEP 2: Rinse out the Licener shampoo. Rinse the shampoo from the hair thoroughly using lukewarm water. Avoid getting shampoo in the eyes as, like all other shampoo, this can lead to irritation of the eyes. It is not necessary to wash the hair with a normal shampoo after treatment with Licener.

Combing is not required to ensure the effectiveness of Licener. However, if desired a nit comb can be used to remove the dead lice and nits after treatment.
Precautions
Licener can cause slight eye irritation like any shampoo. Avoid contact with eyes, in case of contact rinse eyes thoroughly with water.

Do not use if pregnant or likely to become pregnant.
---
Share this Product
---
More from this collection