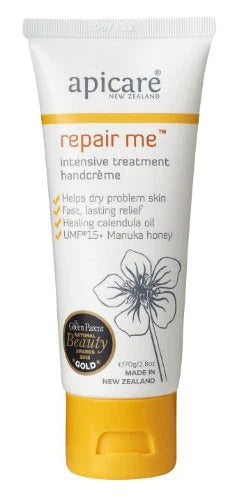 Apicare Repair Me Int H/Cr 70g
---
Repair me Intensive Treatment hand creme gives fast, long lasting relief to very dry, flaky skin. Relieves the uncomfortable, tight sensation of dry skin and the discomfort caused by chaffing & minor splits. UMF15+ Manuka honey heals small cuts & cracks in the skin. Calendula oil with its potent & complex array of phytonutrients helps with natural healing. Repair me is a great solution for people that are required to perform regular, repeated hand washing like nurses and hairdressers and folk that work with chemicals & drying agents that damage and deplete the skins natural balance .
HEALTH BENEFITS:
Helps relieve dry, rough & flaky skin.
Helps calm & soothe eczema skin.
Calendula oil soothes irritated skin tissue.
Manuka honey from our own bee hives.
130 applications per tube, based on a 1g application. 1g gives good coverage to the average pair of hands.
A little really does go a long way.
---
Share this Product
---
More from this collection